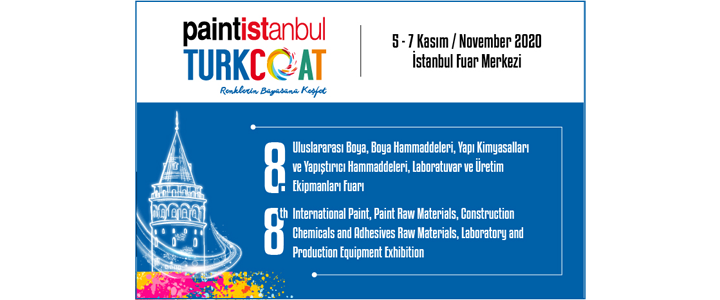 One Exhibition… One Organization… Regional Power…

Paint, Ink, Adhesive, Construction Chemicals, Insulation Products, Paint Raw Materials, Ink Raw Materials, Adhesive Raw Materials, Construction Chemicals Raw Materials, Insulation Products Raw Materials, Paint Application Equipment, Laboratory and Production Equipment, Test and Measurement Equipment, Packaging and Packaging Systems, Environmental Protection and Safety, Services


In December 2014, The Association of Turkish Paint Industry (BOSAD) and Artkim Fuarcilik have announced that Turkcoat Coatings Show Eurasia and Paintistanbul will unite as one single event starting from 2016. With the "Power of Unity" motto, Paintistanbul & Turkcoat will create the most comprehensive Paint and Coatings Industry Platform of Turkey and Eurasia with the synergy arising from this merger.

Witt the enthusiasm of this important merger and the great interest from the industry we have managed to achive over 7,000 m2 in net sales. In the matter of 5 moths Paintistanbul & Turkcoat has already reached 80% capacity and passed the total sales area of both Paintistanbul and Turkcoat's past events.

"International Paint, Paint Raw Materials, Construction Chemicals and Adhesives Raw Materials, Laboratory and Production Equipments Exhibition" Paintistanbul & Turkcoat 2018, which is pioneer to form important business connections by gathering the leader companies from all around the world, will be held between 19-21 March 2020 in Istanbul Expo Center Halls 9, 10, 11 and 12 (Main Foyer).

Workshop Presentation Program, which will take place simultaneously with Paintistanbul & Turkcoat 2020, will offer the opportunity to present their new Products and new Technologies for only our exhibitors.