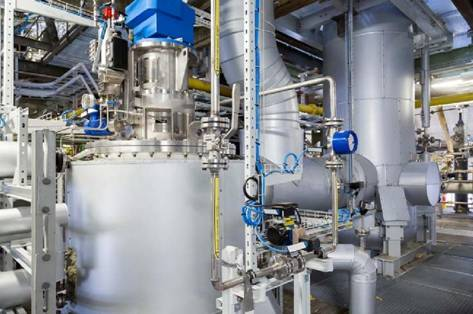 Wacker starts up new production plant for Specialty Monomers at Burghausen
17 Jun 2015
Mumbai
,
June 10, 2015
– Wacker Chemie AG has officially started up a new specialty-monomer plant with an annual capacity of 3,800 metric tons at its Burghausen site in Germany. The specialty monomers vinyl neodecanoate and vinyl laurate are key raw materials in the manufacture of specialty dispersible polymer powders. The goal of the new plant is to ensure that WACKER has sufficient specialty-binder capacity available, both now and in the future, to provide its customers with a secure, long-term supply of high-quality products. WACKER invested some €8 million in the facility and has, as a result, strengthened its position as the world's biggest producer of dispersible polymer powders.
By expanding its capacities, WACKER is meeting global demand for its dispersible polymer powders – which is rising amid such world trends as urbanization, renovation and energy efficiency. The specialty monomers vinyl neodecanoate and vinyl laurate give WACKER's dispersible polymer powders special properties, such as hydrophobicity.
Christoph Riemer, head of polymer-powder business at WACKER POLYMERS, stresses how strategically important the new production facility is: "With our new specialty-monomer plant, we now have the capacity we need to secure long-term a captive supply of these raw materials, which are important for polymer-powder production at Burghausen. In addition, the facility reinforces our leading market and cost positions sustainably." Bors C. Abele, head of acetyls business at WACKER POLYMERS, adds: "We have developed and patented our own novel process for the new plant based on vinyl acetate – a raw material that we actually produce ourselves on site. The process makes our production operations markedly more flexible and self-sufficient compared with conventional processes elsewhere."
WACKER has been producing dispersible polymer powders as binders for dry-mix mortars in Burghausen, Germany, since 1957 and, today, is a global technology and market leader in this field. VINNAPAS® polymer powders find use in various construction applications such as tile adhesives, self-leveling flooring compounds, plasters, repair mortars, external thermal insulation composite systems and cementitious sealing slurries. They enhance important end-product properties, such as adhesion, cohesion, flexibility and flexural strength. Water retention, processing properties and weatherability benefit from VINNAPAS®, too.
About WACKER POLYMERS WACKER POLYMERS is a leading producer of state-of-the-art binders and polymeric additives based on poly(vinyl acetate) and vinyl acetate copolymers. These take the form of dispersible polymer powders, dispersions, solid resins, and solutions. They are used in construction chemicals, paints, surface coatings, adhesives and nonwovens, as well as in fiber composites and polymeric materials based on renewable resources. WACKER POLYMERS has production sites in Germany, China, South Korea and the USA, as well as a global sales network and technical centers in all major regions
Other Important News Articles
More