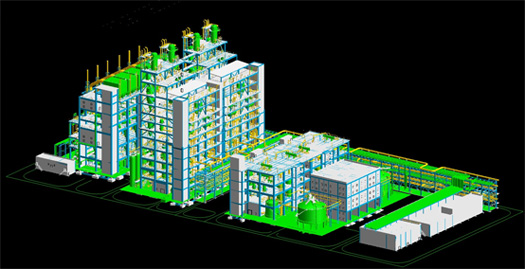 WUHUAN Engineering standardises on AVEVA's Integrated Engineering and Design Technology
05 Jun 2015
Beijing, China – 3 June 2015
: AVEVA today announced that WUHUAN Engineering Co. Ltd. (WUHUAN) has adopted AVEVA's Integrated Engineering & Design (IE&D) software solution. The AVEVA technology will be deployed on a number of projects in the refining, petro-chemical and chemical industries. WUHUAN has already benefited from time savings and increased project efficiency by 10% through tighter integration of its engineering and 3D design disciplines.
A representative from WUHUAN added, 'AVEVA has already helped WUHUAN obtain some very compelling savings statistics demonstrating what can be achieved across a project by significantly reducing inconsistencies and rework during the engineering, design and construction processes. AVEVA demonstrated that its IE&D solution provides high quality and fast deliverables that will reduce overall project cost and time. It is the only solution we have found that allows engineers and designers to work concurrently across disciplines and share real time information on changes throughout the life of the project. We are confident that AVEVA's IE&D solution will help to improve the competiveness of our business by increasing the efficiency of all our major capital projects.'
'WUHUAN had been a long-time user of PDMS but most recently upped its investment with AVEVA to support its long-term engineering and design strategy', said Paul Eveleigh, Executive Vice-President, Head of Greater China, AVEVA, 'As WUHUAN realises the benefits of AVEVA's IE&D solution, it will be able to easily add more integral tools supporting a wider range of disciplines, which will further improve the predictability and efficiency of its projects. This flexibility is unique to our IE&D solution, allowing companies to build an increasingly complex multi-discipline environment with minimum disruption and risk. We look forward to continuing our strong partnership with WUHUAN to develop their Digital Asset strategy in the future. One area of particular interest is Progressive Handover which fully exploits digital data from project inception through handover and commissioning, delivering major benefits to both EPCs and Owner Operators.'
WUHUAN Engineering Corporation (WUHUAN) is an Engineering, Procurement, Contract (EPC) company in the chemical, petro-chemical and medical industries. Established over 50 years ago it has completed more than 1,700 engineering design projects and about 100 EPC projects both at home and abroad, including working with China's leading process plant operators.
About AVEVA Integrated Engineering & Design
AVEVA's Integrated Engineering & Design is the solution which supports the Engineering & Design for Lean Construction approach. AVEVA's Integrated Engineering & Design solution is made up of established AVEVA products including
AVEVA Diagrams
,
AVEVA Everything3D
,
AVEVA Electrical
,
AVEVA Engineering
,
AVEVA Instrumentation
and
AVEVA P&ID
. Drawing on common processes, disciplines and deliverables AVEVA's Integrated Engineering & Design solution improves project efficiency and reduces engineering and design costs.
Media contact:
Judy He
Head of Marketing, Greater China,
AVEVA
[email protected]
+861059137629
Follow AVEVA on twitter @avevagroup
Watch AVEVA on YouTube
www.youtube.com/avevagroup
For customer success stories read AVEVA World Magazine at
www.aveva.com/Media-Centre/AWM
About AVEVA
For over 45 years, AVEVA software has enabled the creation of some of the world's most complex power and process plants, vessels and offshore facilities. AVEVA's Digital Asset approach ensures there is always an accurate digital representation of each physical asset. This allows engineering contractors, owner operators and ship builders to work safer, more efficiently and with less risk throughout the life cycle of their projects and operations. For further information please visit
www.aveva.com/ednotes
Copyright 2015 AVEVA Solutions Limited. All rights reserved. AVEVA Solutions Limited is owned by AVEVA Group plc. AVEVA, the AVEVA logos and AVEVA product names are trademarks or registered trademarks of AVEVA Group plc or its subsidiaries in the United Kingdom and other countries. Other brands and products names are the trademarks of their respective companies
Other Important News Articles
More