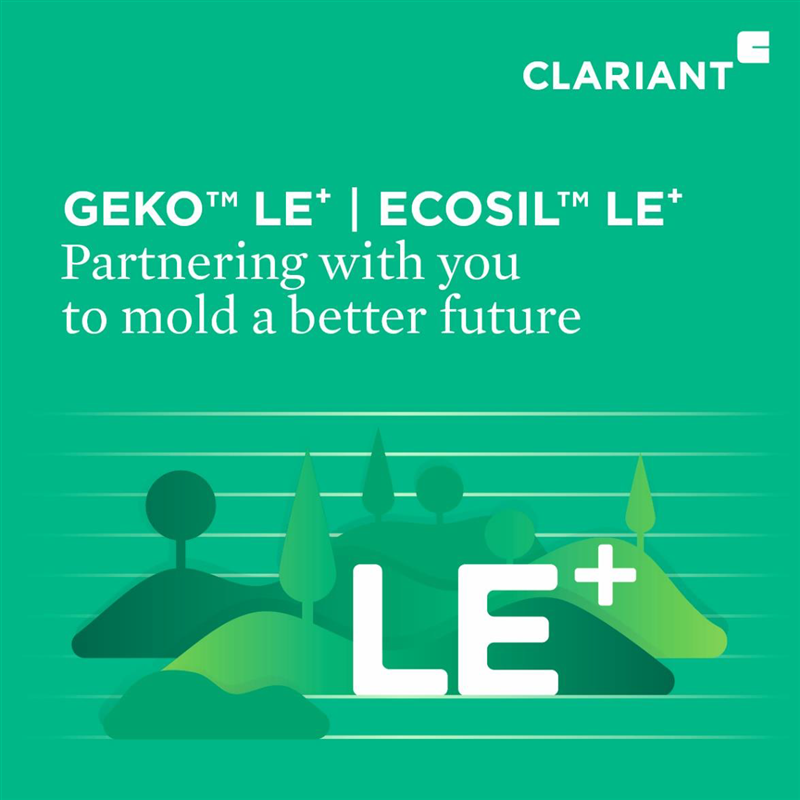 Answering foundry priorities and casting trends LE plus Technology success at GIFA 2019
25 Jun 2019
High surface quality for castings, less total cost of ownership & up to 90% reduction of BTEX emission recorded

Collaboration with customers in GIFA spotlight = foundry-proven performance & environmental success

Meet the Clariant team at Booth 12C13, June 25-29, Messe Düsseldorf, Germany

Muttenz, June 25, 2019 – Clariant's support for a more sustainable future for foundries is proving to meet or even overachieve BTEX emission limits. At GIFA 2019, Clariant shares real-world success for Low Emission+ Technology (LE+ Technology) in lowering total cost of ownership (TCO), delivering high surface quality castings, and elevating eco-credentials to match casting consumers' demands.

Green sand molding continues to be the most widely-used method of producing ferrous small to medium-sized metal castings for diverse industry segments. These include automotive, construction, rail vehicles, heating systems and even cookware. However, its traditionally rougher casting surfaces, large dimensional tolerances and high BTEX emissions pose problems for foundries facing increasing environmental regulation, plus their consumers' growing emphasis on complex high-precision parts, rapid turnaround at reduced cost and working with sustainable partners.

At GIFA 2019, Clariant reveals firsthand experiences from European foundries of LE+ Technology meeting or even overdelivering on its promises to address key performance- and environment-related challenges for green sand systems. Its ability to generate exceptional results at the foundry level in terms of high precision casting, TCO improvements and significant BTEX emission decrease is down to the special combination of bentonite, graphite and dispersing agents at the product's core.

Boosting eco-credentials in more ways than one. LE+ Technology enables foundries to meet or even overachieve regulation limits for lowering BTEX emissions by partly replacing lustrous carbon formers in green sand casting with selective graphite and dispersing agents which have no aromatics. This not only creates significantly less foundry emissions, it creates better working conditions in the foundry through less smoke generation, too. Clariant is excellent in providing qualified performance data on emissions based on its measurement of actual foundry process sands, with up to 90% BTEX emission reduction recorded to date.

Additional improvements to the ecological footprint stem from the mining practices. Customers comment on the reassurance provided by Clariant's sustainable mining practices for its raw materials. All mines are refilled and renaturalized with, for example, mixed woodlands that encourage wildlife and boost soil fertility.

High precision casting: Faster mold production with less casting defects is crucial for today's foundries in meeting the shape complexity of intricate castings and just-in-time delivery now demanded by customers. LE+ Technology plays a central role in achieving precisely cast components and in improving throughput through increased mold stability and subsequent shake-out. The graphite works as lubricant and offers a much more homogeneous compaction of the mold. At the same time, the particle arrangement of the green sand improves, resulting in the avoidance of metal penetration and lower erosion during pouring.

The end result: castings have a higher surface quality with a universally smooth, clean surface that facilitates subsequent blasting, and precise dimensions. Easy mold separation is ensured at the shake-out stage.

Total cost of ownership advantages. Because LE+ Technology improves green sand's flowability, compactability and mechanical properties, the foundry is able to decrease its additive consumption without compromising casting quality. Foundries successfully reduce the amount of clay, which lowers the water need and likewise coal volumes. Specific customer examples at GIFA 2019 highlight additive reductions by 25% as well as lustrous carbon former decrease by 35%.

As the consumption of additives goes down, less waste sand is created. This has positive cost repercussions, as government regulations on waste sand disposal create high payments for foundry owners, as well as clear environmental benefits.

Confirming the benefits of LE+ Technology at its Site de Sept-Fons in France, PSA Groupe says: "LE+ Technology helps us reduce both the BTEX emissions from green sand molding, as well as the consumption of additives. An optimization of the molding performance as well as the reduction of BTEX emissions and green sand molding additives are the results of partnering with Clariant."

Mark Wubbels, Global Head of Marketing & Innovation Clariant, comments: "We are proud to have continuously evolved the way in helping foundries to adapt green sand casting to their current and future needs. Customer collaboration is at the heart of our approach, making sure all customers in Europe, the US, China and Latin America can get the most out of this pioneering technology and successfully move with the times."
The quadrennial GIFA exhibition is a highly anticipated event for Clariant, supporting its global efforts to reach the foundry audience around the world and offering unprecedented insight into emerging trends and industry developments. For more information on LE+ Technology visit the team at GIFA 2019 Booth 12C13 or access
www.clariant.com/GIFA
.
To register for the media event on June 27 at 8:15 at the Clariant booth, please contact Stefanie Nehlsen
stefanie.nehlsen@clariant.com
or
click here
.
Other Important News Articles
More