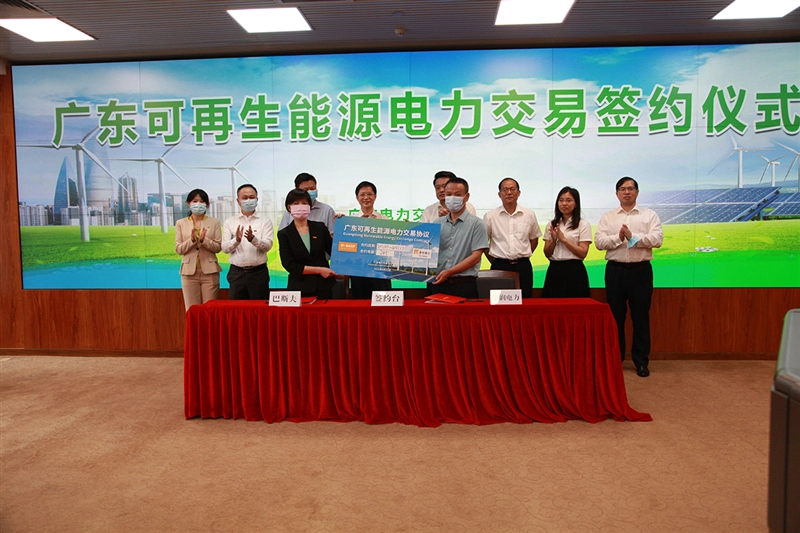 BASF secures 100 percentage renewable electricity for the first plants of its Zhanjiang Verbund site
25 Jun 2021
BASF and China Resources Power made the first deal under the new renewable energy trading rules in Guangdong province

First plants to produce engineering plastics and thermoplastic polyurethanes with minimized carbon footprint

Guangzhou, China – June 22, 2021 – Today, BASF and China Resources Power made the first deal to purchase renewable electricity through Guangdong Power Exchange Center in Guangdong Province, China. BASF secures 100% renewable electricity for its first plants at the Zhanjiang Verbund site under the pilot "Guangdong Renewable Energy Trading Rules" published this April. The first plants will produce engineering plastics and thermoplastic polyurethanes (TPU) to serve the increasing needs of various growth industries in the southern China market and throughout Asia.

"This significant milestone was achieved thanks to the strong support from the government authorities as well as to the joint efforts from BASF and our partner," said Martin Jung, President of BASF's Performance Materials division. "With 100% renewable electricity supply for our plants, the first batch of 'Made in Zhanjiang' products will be delivered with minimized carbon footprints to the market, for the benefit of our customers and the community."

On April 21, 2021, Guangdong Power Exchange Center issued the new pilot Renewable Energy Trading Rules. And today, as the first deal under the rules, BASF successfully purchased renewable electricity from China Resources Power for its first plants of Zhanjiang Verbund site, whereby China Resources Power will establish dedicated renewable electricity sources to supply the renewable electricity for BASF.

"This is a landmark initiative to open up a new green energy business model. It helps enterprises like BASF maximize the use of renewable energy. We are proud to be the first company to purchase renewable energy under the new rules," added Klaus Welsch, President, Mega Projects Asia, BASF. "Our new Verbund site in Zhanjiang will continue to improve the share of renewable energy in our future phases to be a role model for sustainable production. This is part of BASF's goal of climate neutrality by 2050, and will also contribute to China's carbon reduction ambition."
"Since the signing of the agreement between China Resources Power and BASF, the two parties have been working closely together to promote the introduction of this new trading mechanism and provide new growth momentum for the market. China Resources Power will take this cooperation as a base, hand in hand with our partners to actively create and promote this new green energy business model, hence contributing to the green, high-quality development for the economy in China," said Tang Yong, President of China Resources Power.

Announced in July 2018 and officially commenced in November 2019, BASF Zhanjiang Verbund site will be the company's largest investment with around US$10 billion upon completion and would be operated under the sole responsibility of BASF. The site would ultimately be the third-largest BASF site worldwide, following Ludwigshafen, Germany, and Antwerp, Belgium. The whole Verbund site is planned to be completed by 2030. The first plants will be operational by 2022.


Other Important News Articles
More