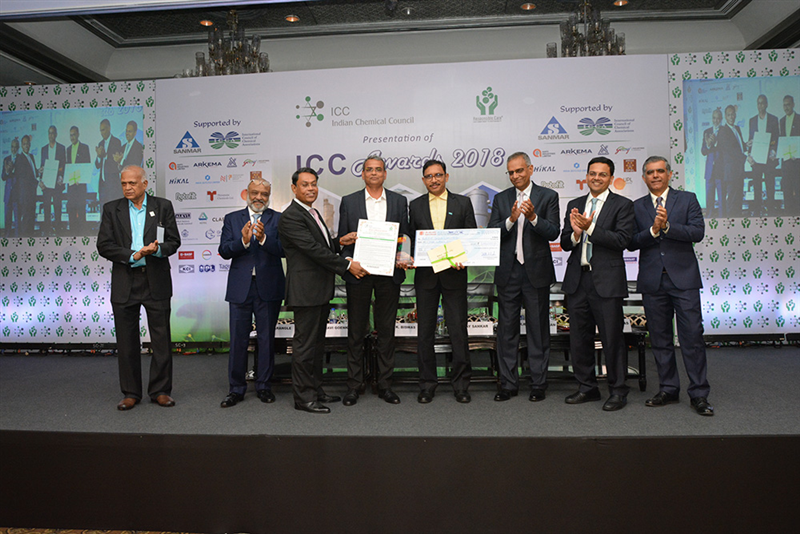 BASF winsawards fromIndian Chemical Council forEnvironment Health and Safety standards
16 Oct 2019

Mumbai, India–October xx, 2019–BASF India Limited has received twoawards from theIndian Chemical Council (ICC), recognizing the company's commitmentand outstanding performance inEnvironment,Health andSafety (EHS). At the event held in Mumbai on September 27,BASF was awarded the"ICC 2018 Aditya Birla Award for Best Responsible Care Committed Company"and "ICC Award 2018 for Best Nicer Globe User Company".Additionally, two drivers of logistics service providers engaged by BASF were judged as "Best Drivers" and awarded the Nicer Globe "Best Driver Award 2018" for their safety record of zero non-conformances and zero accidents in 2018.

The Responsible Care Award recognizesBASF'songoing efforts inmaintaininghigh EHS standards during the operation of production facilities througheffective sitemanagement. With the successful execution of the Responsible Care codes at its manufacturing sites in India, BASF was able to reduce lost-time injury rates,with no fatality recorded in the last three years. Moreover, air emissionsincluding Sulphur Oxides (SOx) and nitrogen oxides (NOx) generatedduring manufacturingdecreased, although the production level at the sites has increased in the same period of time.

BASF also won the Nicer Globe Award from more than25 nominations. The award highlights BASF'sexcellence in the transportation ofchemicals and inemergency response. The company has introduced telematics standards for its transporters, ensuring maximum compliance with GPS monitoring of vehicles.

BASF India is certified as a Responsible Care (RC) company, which is a chemical industry initiative to ensure continuous improvement in the areas of EHS. About 60 chemical companies, including BASF, are supporting Nicer Globe, an initiative under RCto reform the transportation of chemicals. As one of the founding companies, BASFsupports the chemical industry in its efforts to enhance environmental protection, health and safety.

BASF India Limited also received the ICC Aditya Birla Award for the Best Responsible Care committed company in 2012 and the Best Nicer Globe user company award 2018.


Other Important News Articles
More