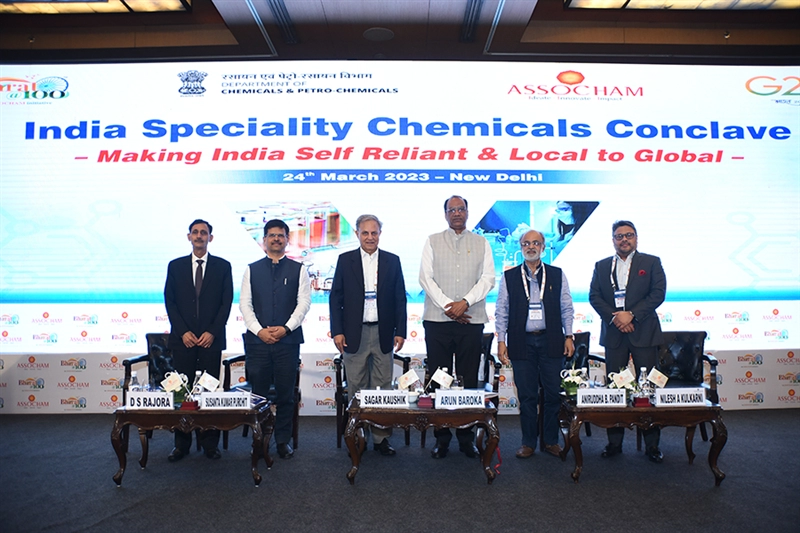 Chemical sector in India is set to grow to dollar 250 billion by 2040 Shri Arun Baroka
24 Mar 2023
Integrating the country into global supply chain with strong enablers like PCPIR and strong government policies is likely to propel the sector forward…

NEW DELHI, 24TH March 2023: Chemical including the petrochemical industry makes an important factor in India's growth story as the government is committed to provide a conducive environment for sustainability, safety, and growth, stated Shri. Arun Baroka, IAS, Secretary, Department of Chemicals & Petrochemicals, Ministry of Chemical & Fertilizers, Government of India, at India's Specialty Chemicals Conclave - ''Making India Self Reliant & Local to Global.'' The conclave was organised by the Associated Chambers of Commerce & Industry of India (ASSOCHAM) to deliberate on key topics such as Import substitution, Academia & Industry Collaborations, Expanding Exports, and Integrating India into the global supply chain.

"The department of chemical and petrochemical is collaborating and creating an interface with various other departments of the government, particularly the Ministry of Environment, Ministry of Agriculture, Ministry of Consumer Affairs, Minister of Commerce, and the Ministry of Labour to build the communication path that will help in resolving short term and long-term issues," said Shri Baroka.

The Secretary also stated that the country is perched with strong enablers such as PCPIR and other policy support from the government enabled with ease of doing business (EoDB), feedstock security, and support of PLI scheme to various companies to achieve the growth target. He added that while India is a net importer of petrochemical intermediates and bulk chemicals, India is a net exporter of a diverse range of speciality chemicals globally.

"The growth rate of speciality chemical sector is much more than the GDP growth rate of the normal chemical sector. The growth rate, if we continue to do well can actually go up. I'm quite confident that from the existing number of about $30 billion, I think it should be touching, not less than $200 to 250 billion by 2040," he quipped.
Mr. Sagar Kaushik, Chairman, ASSOCHAM National Council on Chemicals & Petrochemicals & President Global Corporate & Industry Affairs, UPL in his welcome address said ''India's chemical industry should focus on the strategy of China plus 1 as the expectation from global customers is different from India than what they expect from China.'' There should be a deeper collaboration of science and tech in the field and a shift towards sustainable value is extremely important, he added.
Mr. Nilesh A Kulkarni, Co-Chairman, ASSOCHAM National Council on Chemicals & Petrochemicals & Director – Commercial, Gharda Chemicals Ltd stated that "there is a strong need to boost domestic production and bridge the gap between import and exports. Industry-Academia interface is required to improve the sector." To strengthen Indian Specialty chemicals, he also concentrated on leveraging new trends, infrastructure, skill set requirements, and collaboration.
Mr. Susanta Kumar Purohit, Joint Secretary (Chemicals), DCPC shared India is poised to emerge as a global chemical and petrochemical manufacturing hub. "The Government of India has launched various flagship programmes such as Make in India and PLI. India should expand its global market in R&D competence, production capabilities, and sustainability with the Triple Helix model," he stressed.

The conclave also included key speakers Dr. Sangeeta Srivastava, Executive Director, Godavari Biorefineries Ltd and Prof. Aniruddha B. Pandit, Vice-Chancellor, Institute of Chemical Technology (ICT, Mumbai) who deliberated on building relationship between industry and academia.



Other Important News Articles
More