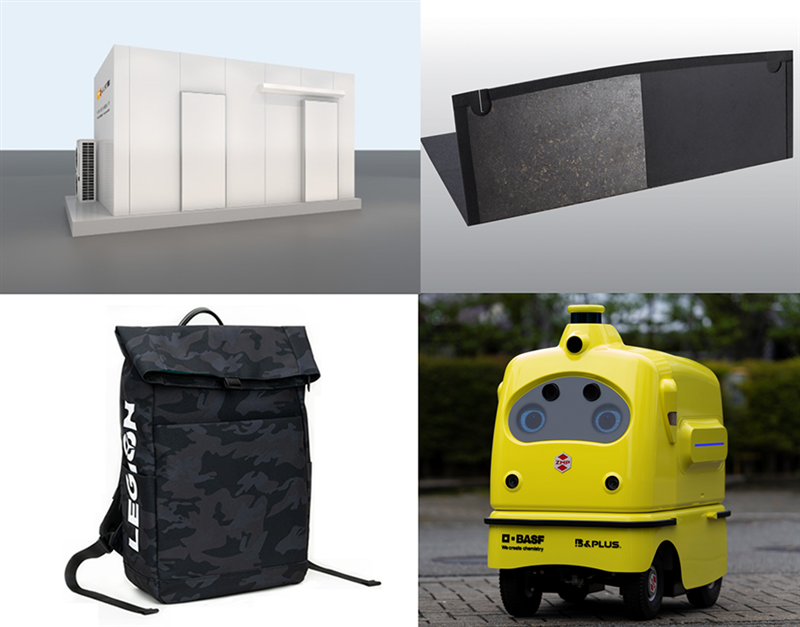 CHINAPLAS 2021 BASF empowers the future with sustainable and customer-driven solutions in China
02 May 2021
Showcasing innovative solutions, broadened product portfolio and enhanced innovation capabilities

BASF to power its first plants of the BASF Zhanjiang Verbund Site with 100% renewable energy

Advanced, efficient e-commerce platforms with digital innovations support customers and contribute to BASF's growth in China

Virtual booth and tech talk broadcasts are available at BASF booth (Hall 17, Booth no.: 17E101)

Shenzhen, China – April 13, 2021 – Building on significant business growth and strong operational performance in 2020 in the Greater China market, BASF today presents a slew of innovative solutions, including a broadened product portfolio after its acquisition of the Solvay polyamide business, as well as its investment project progress including the purchase of renewable electricity for the first plants of the BASF Zhanjiang Verbund site under the new Renewable Electricity Marketization Policy. BASF's new engineering plastics compounding plant at the BASF Zhanjiang Verbund site is also on track to be the first production plant to come onstream at the site in 2022.

"BASF's presence at CHINAPLAS has consistently demonstrated how we support our customers to develop innovative solutions that meet the demanding needs of daily living as well as evolving trends and regulations. Turning ideas into ideal solutions is central to BASF's purpose - creating chemistry for a sustainable future," said Andy Postlethwaite, Senior Vice President of Performance Materials Asia Pacific, BASF. "With our upcoming new plants in the BASF Verbund site in Zhanjiang, as well as combined product portfolio and capabilities with Solvay, we are now better positioned to develop advanced material solutions, backed by new technologies and technical expertise for advanced material and parts testing. These capabilities will help us speed up the time-to-market, give a quicker response to customers in Asia Pacific, and meet the strong demand for our innovative material solutions – mainly driven by the automotive, 5G, and electrical & electronic sectors."

Innovating for sustainability

BASF is also innovating for sustainability and bringing to market more sustainable solutions, in conjunction with BASF's net zero 2050 roadmap announced in March. As part of its efforts to offer customers a portfolio of products with lower carbon footprints and enable their decarbonization, the Product Carbon Footprint (PCF) of BASF's Performance Materials products is being calculated and validated by products types in 2021.

BASF is also working on future possibilities where it can make a positive impact by rethinking, reducing, reusing and recycling plastic. At CHINAPLAS 2021, BASF showcases co-created products that demonstrate this. The trunk floor co-creation for instance, made with recycled PU waste using BASF's PU binder Elastan® CC 6521, is a prime example of how plastics can be recycled effectively. The cold storage, laptop backpack, and autonomous wireless charger co-creations exemplify the impact of improving material and energy efficiency.
The cold storage co-creation is produced with a new pentane B1 Elastopir® system which provides extra-high temperature stability and has lower Global Warming Potential (GWP).
The laptop backpack, made with BASF's Haptex®, an ECO PASSPORT OEKOTEX® certified material, enables production efficiency as no organic solvents are used.
The autonomous wireless charger is made with advanced material solutions robust enough to house sophisticated components and sensors combining 5G, IoT, and AI capabilities, as well as durable enough for the outdoors. As the charger is made of high-performance plastics instead of metal, it is lighter in weight and consumes less energy, enabling the charger's energy-efficient operation.

e-Commerce provides a new impetus for growth in China

Despite the challenging business environment brought by the COVID-19 pandemic, BASF showed strength and resilience as its sales in Greater China reached around €8.5 billion in 2020 (2019: €7.3 billion). "With our strength and resilience, we are confident of keeping the momentum in 2021 by working closely with our customers to meet the country's need for high-quality and sustainable products," said Dr. Zheng Daqing, Senior Vice President, Business & Market Development Greater China, BASF.

Investing in digital solutions opens new markets for BASF. BASF teams up with Alibaba to co-create the consumer-to-manufacturer (C2M) business model in the chemical industry and bring its diversified portfolio to Alibaba's B2B e-commerce platform, 1688.com.

"We are expecting a growing e-commerce presence with more sustainable products and solutions," Zheng added. Over the past three years, BASF has introduced many Accelerator products – products of superior sustainability contributions - on Alibaba's B2C marketplaces. Co-created with BASF's customers, these include products such as Hexamoll® DINCH, Glucopon®, and Infinergy®.

At CHINAPLAS 2021, BASF added a plastic additive — Irgastab® IS 6300 L, an antioxidant that provides processing improvements, excellent physical property stability, and colour stability on its 1688.com flagship store. With a long history and expertise in providing stable plastic additives, BASF also stressed the role of plastic additives in the Circular Economy. Plastic additives are an essential tool to establish plastic circularity and prevent the downgrading of recycled plastic material.

CHINAPLAS 2021 will take place as a hybrid of a virtual and physical event from April 13 – 16, and BASF will present a series of tech talk broadcasts.

Other Important News Articles
More