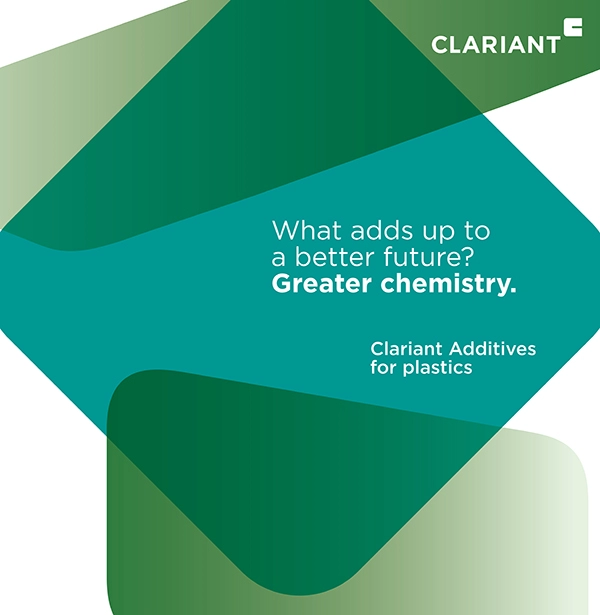 Clariant additives add up to a better future for plastic at Chinaplas 2023 exhibition
Press Release
20 Oct 2023
AddWorks® PKG 158 range of additives bring new dimension on safety and performance for polyolefin-based packaging

Better value and lower carbon footprint in processing achieved with high-performing wax additives Licocare® Vita/Licocene® Terra

Durability and functionality gets a boost from Exolit® OP 1400 flame retardant and AddWorks PKG 906 Circle & AGC 970 G stabilizers


SHANGHAI, April 6, 2023 - In the upcoming Chinaplas 2023 exhibition to be held in Shenzhen, China on 17-20 April 2023, Clariant will present how its versatile additive solutions are adding extra values and new dimensions for the future of the plastic industry. Highlighted in the Clariant booth will be the new AddWorks PKG 158 that offers huge performance enhancement on packaging, in addition to the AddWorks PKG 906 Circle and AddWorks AGC 970 G stabilizers that are valuable in plastic film recycling and extending its service life. Also in the spotlight will be the highly functional Exolit OP 1400 flame retardant that facilitates mechanical recycling. The high-performing wax additives of Licocare Vita / Licocene Terra, and the sustainability-focused Licocare RBW Vita are the other highlights in the show.

Clariant's wide range of additives boast a broad spectrum of functionality and safety features that add values to plastics in multiple ways for many different industries such as packaging, electronics, agriculture and E-Mobility. As consumer demands from within China and overseas continue to rise after the pandemic, Clariant's additive solutions will help these segments tap into the new opportunities more quickly and effectively.

"Versatility and safety hold the key for success in plastic as a key material in the fast-expanding E-Mobility and electronics industries where the industry requirements get more sophisticated by the day. Our wide range of AddWorks additives and Exolit flame retardants are therefore indispensable in helping our customers satisfy the new demands in our value chain," says Jochen Ahrens, Global Vice President, E-Mobility & Electronics, Clariant BU Adsorbents & Additives. "With our new state-of-the-art facilities for Exolit OP halogen-free flame retardants in Daya Bay of China coming into operation later this year, I'm confident that our strong local manufacturing facilities, and the development capabilities at our One Clariant Campus laboratories in Shanghai will help us respond faster to customers' needs, as we work more closely together."

Clariant's patent-protected Exolit OP 1400 flame retardant's high effectiveness and strong mode of action makes it the preferred choice of flame retardant in the field of E-Mobility. In a low dosage of as little as 0.4mm of 16-20% in most polyamides, the industry's leading fire standard of class UL94 V-0 can already be fulfilled.

As far as safety and performance goes, the new AddWorks PKG 158 for polyolefin-based packaging offers increased functionalities and improved economics leveraging the use of polymers to enhance such aspects as processability, stability and static control on packaging materials. The new light stabilizers solutions AddWorks AGC 970 G, on the other hand, provides excellent UV and agrochemicals protection to extend service life of agricultural films for the mulch segment.

"In addition to their great performance edge, Clariant's additives and plastic solutions also exhibit sound sustainability profiles making them the preferred choice of our customers. Our Licocene Terra products, for instance, enhance circularity of polymers and waxes that are based on renewable C2/C3 starting materials and combine their excellent bonding properties with a substantially reduced carbon footprint," says Sarah Zhang, Clariant's Head of Plastics, BU Adsorbents & Additives.

Another wax product going to be highlighted at Chinaplas, Licocare Vita, is based on renewable crude rice bran wax. Used mainly in engineering thermoplastics applications, it functions as a highly effective lubricant and dispersion aid. The bio-based additive solution also has an excellent environmental profile which is conducive to achieving corporate sustainability targets.

Besides showcasing the highlighted products at their booth at 15C41, Shenzhen World Exhibition & Convention Center during the show period of 17-20 April 2023, Clariant will also present their solutions in the seminar session of Chinaplas. Please check out the latest schedule from the event website or contact the Clariant team for more details.


Other Important News Articles
More