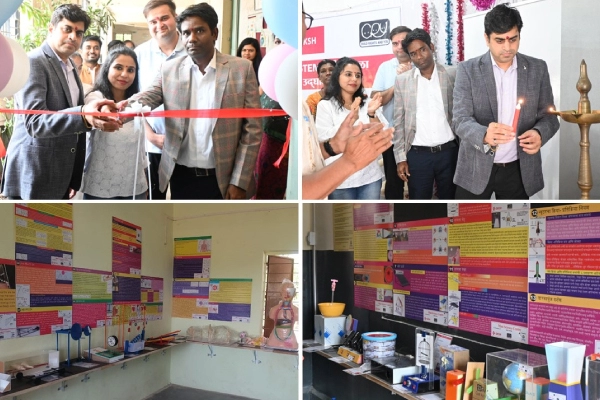 DKSH Equips Six Community Schools in India With New STEM Labs
Press Release
20 Oct 2023
DKSH has partnered with CRY, an Indian non-governmental organization (NGO), to provide six community schools in the local regions of Pune and Wardha, Maharashtra in India with new labs for Science, Technology, Engineering, and Mathematics (STEM) subjects.

Mumbai, India, May 10, 2023 – DKSH India has started a collaboration with CRY to ensure children get hands-on learning experiences through STEM labs. The partnership aims to develop the aptitude of children studying in grades six to nine toward science, eradicate the fear of learning, and set them up for a successful future.

The STEM lab project includes 80 models, 80 user placards, 40 colorful backgrounds, one safety placard, and one teacher's manual to creating a platform for using the models along with an electrical connection. DKSH partnered with CRY to provide STEM education to children as lifelong skills that will allow students to generate ideas, weigh decisions intelligently, and understand better how things relate.

Ms. Kreeanne Rabadi, Director-West, CRY, commented: "We are very grateful to DKSH for partnering with us to bring STEM labs to government schools in Pune. The introduction to science, innovation, and technology in these labs offers marginalized children the opportunity for hands-on, experiential learning, expanding their horizons, and letting them explore their interests while acquiring crucial skills. Most importantly it motivates children to stay in school."
Vishal Jawale, Managing Director, DKSH India, stated: "We are very pleased to have collaborated with CRY on this important project. Our STEM lab kits will help teach science and math to school children in a simpler way and give them the skills and knowledge they need to not only succeed on their educational path but also in life. This community project focused on improving life skills is in line with our overall sustainability strategy and the specific objective of making a positive local impact in the communities where we operate."
Other Important News Articles
More