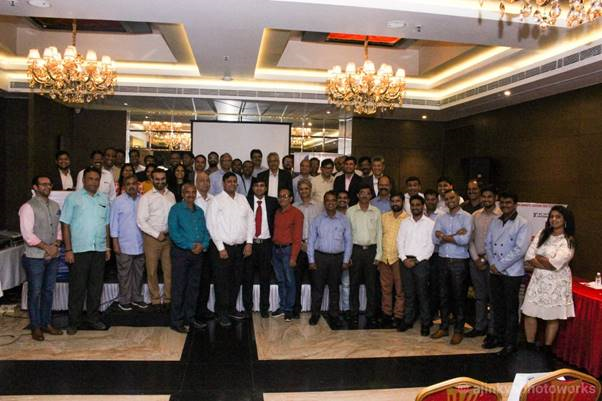 Driving costs in value chain of Textiles through Innovation
18 Oct 2019
SDC EC in India successfully conducted a half day seminar on 26th September 2019 for Bhiwandi cluster at Satkar Grande. The topic of the seminar was close to everyone's heart "Driving costs in value chain of Textile through Innovation "

The event was well attended by the representatives from stakeholders of textile value chain who are all equally responsible to innovate in their areas in order to drive down costs.

Mrs Lipika Nair gave an introduction of the days topic to all the guests followed by the lighting of the lamp by all the dignitaries.

Mr Sandeep Singh welcomed the delegates, speakers & panellists to the seminar. He expressed gratitude that so many people representations from Dyes & Chemical manufacturer and processors were present there.

Mr Yogesh Gaikwad then introduced SDC, its Mission and its objectives to the delegates

The Keynote speaker for the day was Mr Gautam Makharia (Joint MD of M/s Pushkar Chemicals).

He emphasised on the 3 P's of sustainability and how innovation alone can bring about profits through a zero-waste cycle wherein, the by-product of one can become the raw material for the next process/ product. He very well illustrated that at Pushkar, how they have created this cycle so that they are able to bring down the costs of the products and be present in a number of verticals in the industry.

The chief guest Mr Punit Makharia (Chairman & MD) of M/s Pushkar Fertilisers & Chemicals) talked about how stability & sustainability was important to create wealth. He gave example of the polluting Industry of China which are being phased out since they were more focussed on manufacturing more and more with total disregard for the disposal of the waste.

This was followed by a Lecture on sustainability by Dr Mahapatra using the right kind of dyes which not only ensures we have the colour depth using lesser amount of dyes , also ensures lower water and power consumption , which the results in lower cost of dyeing. He introduced H&M approved reactive Black Dye which gives the same depth at 5-6 % as compared to 13% of conventional Black dye. He also talked about using innovation in the fibre sector with the alternatives to cotton/ Silk making an appearance in the industry such as soya bean fibre which has properties same as silk and Milk fibre from waste milk.

The second speaker was Mr Mitesh Shah (Sales head SF Dyes) who was supported by Mr Sunil Sharma from Archroma. He expressed concern that the garment industry which is slated to grow to 2.6trillion by 2025 must innovate in all stages of the value chain in order to be sustainability brought to fore innovations dyeing and in finishing concepts which not only allow for savings in process time ( one bath ) but also allow the garments to be cared for in an easy manner using less water for washing & less energy for ironing

Introduction to ITMACH was given by Mr Gohain. He announced the dates for ITMACH India to be held on 5-8th Dec 2019 wherein it will be a marketplace to interact with potential new and existing investors from India and neighbouring countries. ITMACH will cater to categories such as machinery for spinning to garmenting. Dyes and Chemical manufacturer's, testing, transport, Accessories for waste recycling etc.

The panel discussion was chaired by Mr Sanjay Sathe from Archroma, on the panel were Mr Sunil Chari Director from Rossari Biotech, Mr Kalpesh Jain from Silkon Group, Mr Dinesh Jain Director at Rishabh apparels, Mr Dakshesh Desai -VP _ Business development at Sohan Dyechem & Mr Abhirup Khetrapal from Bombay Crimpers. There were very interesting viewpoints shared by Mr Sunil with regards to what the chemical industry is doing in terms of innovation so that processors like Abhirup can benefit to bring down their process costs. Mr Abhirup also emphasised upon the awareness of process houses to innovate in house process and systems to create less waste and improve profitability. We had a view from Mr Dinesh who talked about how garment industry is also looking at sustainable fashion. Mr Dakshesh shared his experiences from colour communication being made so much easier with the use of latest tools, which leads to faster and more accurate shade matching leading to time saving and right first time. Mr Kalpesh also was in sync with the other panellist and emphasised as to how innovation in all aspects of textile value chain contribute to the costs of a garment & how we need innovation is required to bring down costs and increase profitability for all stake holders.

Vote of thanks was given by Mr Sachin Pulsay with special thanks to all the dignitaries, Speakers & panellist, who contributed to sharing their knowledge to the esteemed audience. Also, a heartfelt thanks was given to the sponsors, M/s Pushkar fertilisers & Chemicals, SF Dyes, Britacel & ITMACH for their monetary contribution.


Other Important News Articles
More