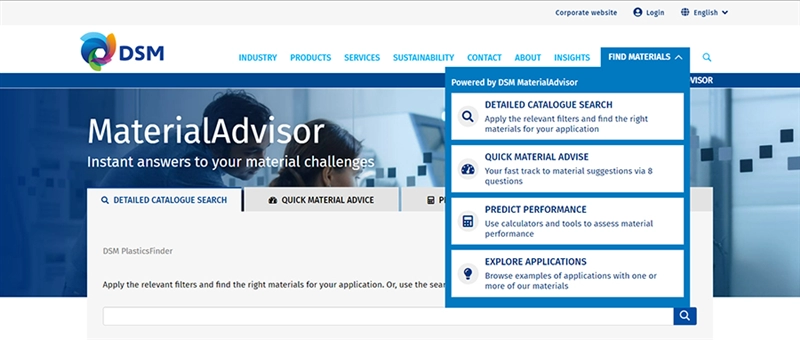 DSM Engineering Materials launches breakthrough online access to materials science expertise
01 Nov 2022
Geleen (NL), 20 October 2022 - Today at K2022, DSM Engineering Materials announces the launch of an industry-leading suite of digital tools and online services that provide customers and industry partners with instant or express access to materials science expertise. This broad range of digital-driven solutions, developed through close collaboration with customers, will allow users to accelerate innovation and design processes and is on show at the DSM Engineering Materials Hall 6 Booth B11.

More than ever, material engineers are faced with pivotal technological transitions and shortening product life cycles along with increasing regulatory and sustainability target pressures. As such, the need for timely materials science and application expertise, design support, and technical consultancy has never been greater. Research by DSM Engineering Materials involving over 300 design and material engineers underlines a strong and growing preference for online self-service and instant access to information and data.

To help its customers and industry partners address their evolving industrial landscapes, DSM Engineering Materials has developed an industry-leading range of intuitive digital tools and services, called the DSM MaterialAdvisor. They were developed through close external partnerships with field experts and customers and evaluated by a review board of over 100 engineers from a range of companies across industries. The key elements of the DSM MaterialAdvisor include:

Material performance calculators for e.g., stress-strain, creep, fatigue, thermal expansion, moisture diffusion, chemical resistance, and heat aging. An online Failure Modes Advisor also creates awareness of potential failures and provides mitigation actions. The majority of these tools will be launched at the K-fair; some shortly after.
ExpertFinder, enabling eligible customers to directly connect with a DSM expert of choice for a consultation. After login, users will be able to select the materials expertise they need and schedule an online intake meeting with the desired expert, or get in touch via email. As such, the ExpertFinder lets customers have in-depth materials expertise as and when they require it.
QuickAdvisor, providing an initial, quick online material assessment in the early stages of a design process, based on the answers to eight questions. The tool exists alongside DSM's well-known, data-rich, and property-based product catalog, PlasticsFinder.
Sridhar Mukthineni, Predictive Engineering Manager at Molex: "For me and my colleagues, this innovative range of digital self-service tools and services of DSM is a game-changer in helping us to select first-time-right materials and test future-proof designs. In a world where innovation cycles continue to accelerate, having in-depth materials expertise and data at our fingertips is crucial. This new digital ecosystem takes online customer centricity to an exciting new level. I eagerly look forward to seeing what comes next!"
Han Nabben, Global Head of Digital Marketing & Marketing Communications at DSM Engineering Materials, explains: "Our digitization journey started five years ago with the ambition to provide our customers with industry-leading online solutions for materials science and expertise, data and information. This new suite of digital tools and services is our latest step on this journey. In 2023, we plan to expand our suite of material- and part-performance prediction tools further and launch various other exciting digital propositions that will make materials engineering easier, faster, and more effective for our customers."
Krijn Dijkstra, Vice President of Research & Technology at DSM Engineering Materials: "More than ever, our industry is stepping on the accelerator pedal of innovation. With a suite of brand-new digital tools, our digital ecosystem will turbocharge our customers' research and development capabilities. These tools, however, will not only facilitate self-service; personal interaction with our top R&T experts is simplified as well. Our new ExpertFinder, which we are currently finalizing, allows customers to easily identify our top experts for each given materials-engineering-related challenge, and instantly book an online meeting with them. This hybrid mode of interaction – digital combined with personal or online combined with offline – allows engineers to interact with us in exciting new ways, to find instant answers to their questions."

DSM is looking forward to connecting with its customers and partners at K 2022 to share its exciting new innovations in e-mobility, sustainability, and digitalization. Visitors can find DSM Engineering Materials at Hall 6, Booth B11.


Other Important News Articles
More