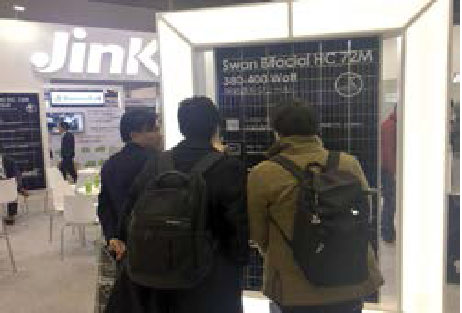 DuPont Photovoltaic Solutions and JinkoSolar Join Forces to Launch High-Efficiency Bifacial Module with Transparent Backsheet
25 Apr 2019
Jinko's new Swan bifacial module premiers at 2019 International Photovoltaic Power Generation Expo in Tokyo

At the 2019 International Photovoltaic Power Generation Expo (PV EXPO) in Tokyo, DuPont Photovoltaic Solutions, together with JinkoSolar Holding Co., Ltd. (JinkoSolar), two global leaders in the solar industry, will unveil the new Jinko high-efficiency bifacial module "Swan" protected by clear DuPont™ Tedlar® PVF film-based backsheet.

The bifacial panel named Swan will be the latest addition to JinkoSolar's Cheetah premium range. With a combination of high-efficiency Cheetah bifacial cells and clear DuPont™ Tedlar® PVF film, Swan can achieve a high-power output of up to 400W in the front side and up to 20 percent energy gain from the rear side. Leveraging clear DuPont backsheet materials, Swan can produce the same power output level as dual-glass bifacial module with lighter weight, easier installation and 30 years power warranty.

In addition, bifacial panels with transparent backsheet can efficiently reduce the overall system installation cost, as lower weight reduces cost related to mounting and module installation, compared with dual-glass bifacial module with frame, bringing higher IRR and lower LCOE for bifacial module photovoltaic (PV) projects.

For more than 40 years, DuPont has focused on R&D innovation and is committed to advancing PV materials science to meet the world's growing energy needs. The vision of JinkoSolar is to change the way we generate and use electricity, optimize the energy portfolio, take responsibility of enabling a sustainable future by delivering the cleanest, most efficient and economic solar energy solutions.

"The two companies adhere to a common philosophy of excellence, quality and innovation, and strive to promote the continuous improvement of solar panel power output and durability," said Eric Wang, PV Global Business Director of DuPont Photovoltaic Solutions. "We are honored to work with JinkoSolar to launch the high-efficiency bifacial module protected by clear Tedlar® PVF film-based backsheet. We look forward to supporting JinkoSolar in leading the competitive and technology advantages with DuPont's backsheet materials with long-term field-proven performance, research and innovation capabilities, and jointly promote the sustainable development in the solar industry."

DuPont and JinkoSolar have been in close collaboration for some time. JinkoSolar believes that "Quality is the key to competitiveness" and insists on the use of high-quality materials, such as DuPont™ Tedlar® PVF backsheet materials, to continuously improve the durability and reliability of modules while reducing the LCOE. In the process of PV grid parity, JinkoSolar has been continuously providing more and more reliable modules globally by improving power output, yield and process technology.

The clear DuPont™ Tedlar® PVF film is an ideal backsheet material for bifacial modules that can generate greater power output. Compared to a double glass module structure, the breathable, clear Tedlar® PVF film based backsheets allow for higher reliability, lower operating temperature, up to 30 percent lighter weight, and a lower module installation cost. The clear Tedlar® PVF film is expected to be a drop-in with most current manufacturing processes for backsheets and modules with little if any additional investment in equipment needed for most manufacturing processes.

With the iterative development of bifacial power generation technology, bifacial modules are gradually becoming one of the mainstream industrial applications. The clear backsheet materials can meet the requirements of light-transmittance, weather-resistance and ultraviolet-resistance for bifacial solar panels. The clear backsheet materials combine core advantages of lightweight, breathable, high gain and easy cleaning, which will further enhance the power output of bifacial modules, and ultimately help promote grid parity.


Other Important News Articles
More