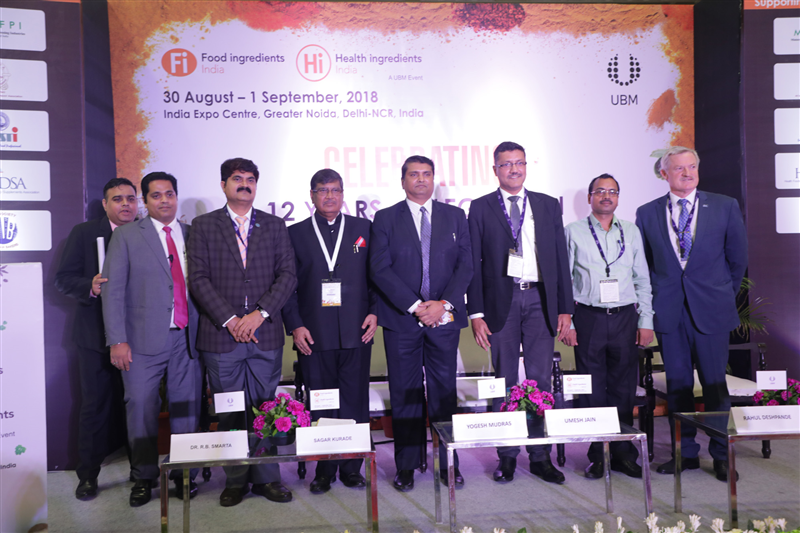 Fi India and Hi 2018 and ProPak India 2018 get off to a scintillating start at the India Expo Centre Greater Noida
31 Aug 2018
Two uniquely designed expos by UBM India focused on fortifying the Indian food basket, and the processing & packaging industry

Greater Noida, August 31: UBM India, India's leading exhibition organizer, launched the 13th edition of the Food Ingredients & Health Ingredients (Fi India & Hi) as well as the debut edition of ProPak India, – a B2B platform for the packaging and processing industry for the first time at the India Expo Centre, Greater Noida today.

While Fi India & Hi, the only B2B event in the Indian sub-continent for the food and health ingredients, and processing & packaging industry, is one of the organisation's oldest shows, the nouveau entrant, ProPak India is being co-located with the former due to the synergy between the two. Combined together, the shows are optimally positioned to provide industry players an entire array of products and solutions pertaining to food ingredients, processing, technology and packaging under one giant umbrella. ProPak India also brings within its ambit, packaging solutions pertaining to products from medicines, cosmetics, appliances, industrial systems and machinery, among others.

The co-located expos will rotate annually between India's two promising food hubs i.e Mumbai and the Delhi-NCR region.

Speaking on the occasion of the launch of Fi India & Hi as well as ProPak India, Mr. Yogesh Mudras, Managing Director, UBM India said, "In India, the food sector has emerged as a high-growth and high-profit sector due to its immense potential for value addition, particularly within the food processing industry. It is set to be valued at US$65.4 billion by the end of 2018. What the industry ails is the currently low investment in testing and R&D. Always the harbinger of novel features, at Fi India & Hi, we are excited to showcase the unique Live Quality Labs, Food Safety on Wheels by FSSAI in synergy with the FSSAI planning to invest US $72.3 million to bond food testing infrastructure and upgrade existing food testing labs and mobile testing labs. Apart from the buzz of business, the show days will also come alive with a host of demonstrations and workshops.

He added, "Research also reveals that better processing and packaging techniques need to be developed that not only increase the shelf life but also improve the nutritive value of the processed food. And this is where our new ProPak India Expo comes in. Of course, processing and packaging engulfs so much more and unlike corresponding expos in the sector, ProPak India will cater to multiple sectors and cater to the entire value chain and be of immense value."

Fi India & Hi:

The 13th edition of Fi India & Hi was inaugurated by key dignitaries Madhvi Das, Chief Management Services Officer, FSSAI; Dr. Subodh Jindal, President, AIFPA; Sagar Kurade, National Vice President, AFSTI – Delhi; Dr. R.B. Smarta, Secretary General, HADSA; Mr Yogesh Mudras, Managing Director, UBM India and Mr. Rahul Deshpande, Group Director, UBM India, amidst an august industry gathering.

This year, the expo has over 250 quality exhibitors such as Doehler, Brenntag, Keva, IMCD, Synthite, Jubilant Life Sciences, Calpro, Tata Chemicals, DKSH, Azelis, among others. It is well-supported by the Ministry of Food Processing Industries (MOFPI), All India Food Processors' Association (AIFPA), Health Foods and Dietary Supplements Association (HADSA), Association of Food Scientists & Technologists, India (AFSTI) and The Society Of Indian Baker (SIB). The visitor profile is exhaustive and includes industry professionals associated with Manufacturing, Distribution, and Retail of Food and Beverage products, Research and Development, Food Safety and Quality Services, Education/Training , Consultancy, and Microbiology, among others.

With a rich legacy of 12 years, Fi India brings in several novel features such as Live Quality Labs, Food Safety on Wheels by FSSAI along with the popular Discovery Tour, Food workshops, Live Demonstrations and Products Showcase provided the audience a wholesome, sensory experience, and newer ideas and useful tips on food products.

It also features a 2 day free seminar on food and health ingredients. The seminars have been organised in alliance with a leading Industry Associations, covering both technical developments and market trends. Day 1 witnessed discussions on the subject of Dairy Fat Replacers; Live demonstrations on the varieties of bread; Food Emulsifiers and their applications; A special lecture 'Thoda Kam; and Trans-Fat Alternatives. Day 2 will focus on Middle Eastern Desserts; Natural Flavours; and Panel Discussion on Trouble Shooting in Bakery, New Product Idea and Skill Development. A session on Cakeology; and Live Demonstration of a variety of desserts will set the tone for Day 3.

Previously, a Pre-Connect Congress was held from August 28 to 29, on Nutritional Science and Functional Food focusing on the newly implemented FSSAI regulations.

ProPak India Expo:

The maiden edition of the ProPak India Expo was launched in the presence of key industry dignitaries including Prof. Pierre Pennar, President - World Packaging Organisation; Mr AVPS Chakravarthi, Global Ambassador - World Packaging Organisation; Mr L.K. Singh - Vice President North Zone - All India Plastics Manufacturers Association (AIPMA), Mr. Yogesh Mudras, Managing Director, UBM India and Mr. Rahul Deshpande, Group Director, UBM India, among other dignitaries.

Catering to India's ever growing processing and packaging industries, the show has been geo-located from ProPak, Asia's largest platform in its domain, and is comprehensively tailored to Indian requirements. It is well-supported by key associations such as Association of Food Scientists and Technologists (I) Mumbai Chapter (AFSTI), Indian Flexible Packaging & Folding Carton Manufacturers Association (IFCA), All India Food Processors' Association (AIFPA) and Active & Intelligent Packaging Industry Association (AIPIA).

Unlike corresponding expos in the sector, ProPak India caters to packaging and processing in multiple sectors. Accordingly, the show hosted over 80 companies offering products and services in automation, testing and measurement, filing and sealing machinery, cartooning machinery, thermoforming, robotics, storage and transport, materials and consumables, and complete production lines along with allied services.

Some of the key exhibitors at the show included Clearpack India, IWK Thailand, Bossar Packaging, Bry Air Asia, Ishida India, Gandhi Automations, Ace Technologies, Goma Engineering, IMA-PG, among a host of others. The show benefits manufacturers, distributors, Govt institutions, and other key professionals associated with Product Development, R&D, QC/QR labelling, Packaging Development, Procurement, Supply Chain, purchasing, and Marketing and helps them network, exchange ideas on trends and solutions, and conduct business under one address.

Alongside the exhibition, ProPak India 2018 also features an engaging and interactive conference on extremely topical subjects. Day 1 comprised The Leaders Panel - Industry 4.0; Smart Technologies In Liquid Food & Beverage Industry; Plastic Waste Control And Solid Waste Management; Ecommerce Packaging - The New Opportunity. Day 2 will veer on the topics, Plastics - Is the angst against the material realistic or mis-placed? ; Challenges & Opportunities in Packaging Design and Innovation; Women in Processing and Packaging Industry and other panel discussions. These will help the show bridge the knowledge gap and offer many facets of the industry that are waiting to be tapped upon.


Other Important News Articles
More