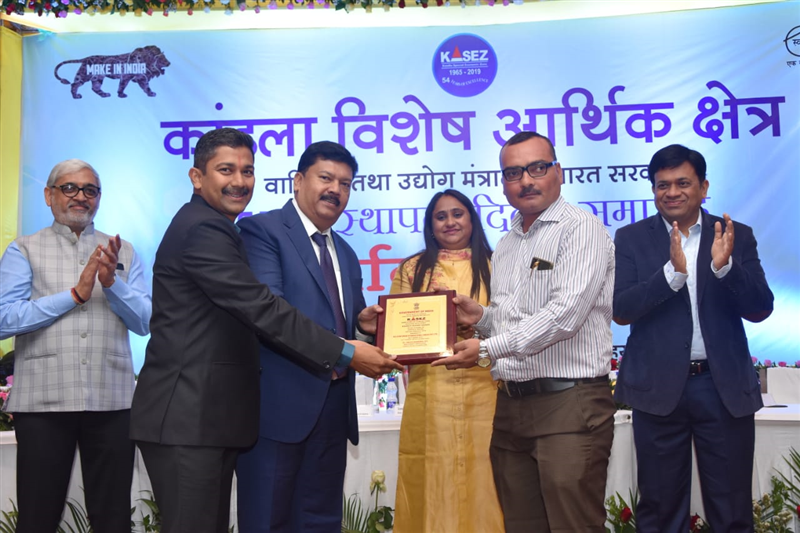 HUNTSMANS KANDLA WAREHOUSE WINS HIGHEST EXPORTER AWARD
10 Apr 2019
Kandla plant in Gujarat recognised for exports in excess of 1500 metric tonnes in 2017-18

Gujarat, India, April 10, 2019: Huntsman Textile Effects, the leading global provider of high quality dyes, chemicals and digital inks, today announced that its Kandla warehousing facility in Gujarat was recognized as the highest exporter by Kandla Special Economic Zone (KASEZ) authorities for 2017-18. Huntsman's Kandla facility received the award for the export of dyes, chemicals and digital inks.

The specialty chemical leader was awarded by KASEZ under the service and trading category for timely execution of exports, error-free documentation and on-time post-shipment formalities.

Commenting on the feat, Mr. Koshal Bisen, Regional Supply Chain Manager (SAMEA), Huntsman Textile Effects, said, "It is an honor to be recognized for our performance in exports from the Kandla Special Economic Zone (KASEZ) for the fifth time. This award is a reaffirmation of our commitment towards achieving superior operational excellence and enhancing year-on-year efficiency. We are also grateful to the team who aspire to better their efforts each year."

Huntsman's Kandla warehouse has previously been recognized by KASEZ authorities in 2011, 2012, 2013 and 2014. The facility is a consolidation hub and has an export capacity of 400 metric tonnes per month.

The award was presented to Huntsman at the 55th foundation day of the Kandla SEZ. The top 10 units of KASEZ are awarded in various categories such as manufacturing, trading, job works and export services among others.


Other Important News Articles
More