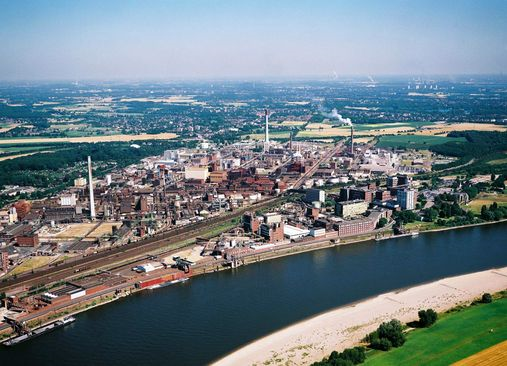 New Production line for Thermoplastic Specialty Compounds in Krefeld-Uerdingen Germany
22 Mar 2018
Capacity expansion by 10,000 metric tons/year

Total investment: approximately seven million euros

Increasing demand in the automotive and electrical/electronic industries

Tailor-made for highly reinforced and flame-retardant compounds

Specialty chemicals company LANXESS has now commissioned a new production line for the manufacture of specialty compounds at its Krefeld-Uerdingen site. The company has invested approximately seven million euros in expanding the production capacities of its engineering plastics. LANXESS is thus expanding its position as one of the world's leading suppliers and developers of high-performance compounds based on polyamide 6, polyamide 66 and polybutylene terephthalate (PBT).

The new line has an annual capacity of up to 10,000 metric tons. At the Krefeld-Uerdingen site, it complements the compounding lines designed for the production of Durethan polyamide compounds and PBT compounds of the Pocan brand. "With this investment, we are responding in particular to the development of new forms of mobility such as electromobility, but also to trends in the electrical and electronic industry such as the Industry 4.0, which are leading to a growing demand for complex thermoplastic compounds," explains Dr. Michael Zobel, Head of LANXESS's High Performance Materials business unit.

State-of-the-art equipment

The new production line includes a high-performance twin-screw extruder with a modern raw material feeding, precise dosing and an efficient cooling and classifying technology. "The extruder provides all the equipment necessary for the economical production of high-quality compounds," explains Dr. Stefanie Nickel, Head of Compounding in the High Performance Materials business unit. "The line is very well suited, for example, for our glass fiber-reinforced polyamides, which are used in the structural lightweight design of automobiles." It is also suitable for the production of compounds with high mineral content, which are used in thermally conductive housing parts, for example for the miniaturization of electronic assemblies. "We also see great potential in flame-retardant compounds, for example for components in electric drives," Nickel continues.

Compounding facilities in all major economic regions

In addition to its German sites in Krefeld-Uerdingen and Hamm-Uentrop, LANXESS operates compounding lines in all relevant economic regions worldwide to supply its international customers – for example in Wuxi, China, in Jhagadia, India, in Gastonia, USA, and in Porto Feliz, Brazil. In 2019, LANXESS will open another compounding plant in Changzhou, China, with an annual capacity of around 25,000 metric tons. With its world scale production facilities in Krefeld-Uerdingen and Antwerp, the specialty chemicals group is one of the world's largest producers of polyamide 6 base resins.
Other Important News Articles
More