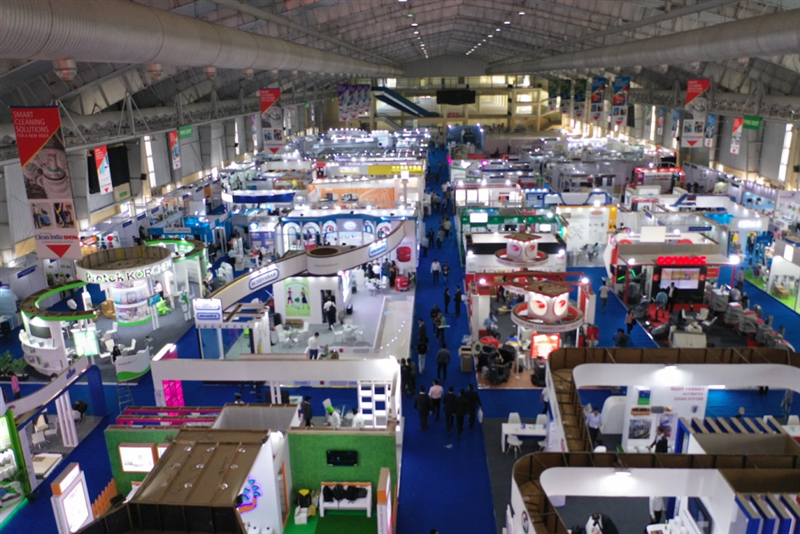 Witness Innovative Launches at the Clean India Technology Week 2019
16 Feb 2019
'Clean India Technology Week 2019', Asia's largest expo on total cleaning solutions opened today, at the Bangalore International Exhibition Centre (BIEC), 13-15 February, 2019 with the professionals from various verticals like Cleaning Equipment, Chemicals, Facility Management, Waste Management, Linen Care and Car Care coming together. Spread across 7500 Sq.mts of exhibition space, the four expos Clean India show (16th edition), Waste Technology Expo, Laundrex and Car Care showcased the latest products and technologies from over 20 countries and is expected to see a footfall of over 15,000 visitors.

On display are cleaning equipments like high end ride on sweepers, city sweepers, portable scrubber drier, high pressure cleaners, façade cleaning machines, steam cleaners, air purifiers, smart phone –operated air care system, disinfectants, multitasking equipment for washroom cleaning, battery operated litter picker, waste digesters, commercial laundry equipment, flagging machine, the latest on commercial laundry and dry cleaning care and car wash and car detailing.

Ms. Mangala Chandran, Director – VIS Group, while describing the uniqueness of the Clean India Technology Week 2019 Expo, stated, "The response to this show is very encouraging. This proves that a National Awareness for cleanliness has naturally seeped into the minds of the people. This expo is a perfect platform for the solution seekers and the solution providers."

A collective feedback of many exhibitors added the needed flavour to the making of this World-class show. The international exhibitors are awed by the footfalls as their experience on the first day of any expo of this standard in Europe is generally very slow. Many new exhibitors got enquiries from clients pertaining to various Industries, Public and Private sectors as well. So overall the show matched the expectations of national and international exhibitors .

The expo is here to discuss industry trends, challenges and market insights along with new launch of innovative products, B2B interactions with distributors and channel partners, live demos of products and processes, connect with leading service providers, exclusive meeting with buyers, trade association meet and much more. It is an excellent platform for National and International suppliers of equipment, chemicals and systems, service providers, distributors to enter this growing market.

Various Seminars and Conferences are being held during the three day expo on interesting topics ranging from Waste Management Technology, Hospital Infection Control, Car Care, Laundrex and Digitisation of Facility Management process.


Other Important News Articles
More