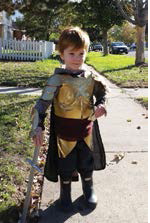 Using Polly Plastics to Create a Halloween Costume to Impress Contest Judges
12 Nov 2018
Anyone can pull together a last minute, uninspired Halloween costume that may or may not be adequate to attend Halloween festivities. Typically, however, a crucial item is missing or doesn't look right because there wasn't enough time to find it or the store had a limited supply. However, "originality and attention to details" are what makes a costume more exciting and even a contender for winning a contest, according to John Crafton, a two-time Halloween costume winner who answered the question on Quora.com, "Have you ever won a Halloween costume contest, and what was the costume?"

According to Halloween Industry Stats & Trends (www.hiaonline.com), in 2017, 179 million people celebrated Halloween by decorating, pumpkin carving, etc., and 69% of those dressed up. With a little imagination, more time to prepare, and moldable thermoplastic, you can create a stand out costume with details that looks unlike any of the other approximate 123+ million other costumes.

Polly Plastics moldable plastic helps make any costume look more authentic, either by enhancing an existing costume or by creating your own design. The plastic comes in pellet form, strips or sheets. The product can be bent and molded when heated with 150 degree F water or the heat of a blow dryer. Additionally, it hardens within minutes so you won't have to wait to use what you create. You can make masks, swords, antlers, jewelry and other props, endless possibilities; there are many tutorials online showing how to use the moldable plastic. If you make a costume yourself, it will undoubtedly be more unique than anything you can find in a store. Moldable plastic supplies can be ordered at www.pollyplastics.com. According to the company's owner, "We only sell the best products available at affordable prices." Make this Halloween one of the best with an original costume at an affordable price. Polly Plastics specializes in moldable plastics, polypropylene pellets for crafting, silicone molding putty and supplies for rock tumbling. Their target audience includes cosplayers, hobbyists, crafters, home improvers and DIYers.


Other Important News Articles
More