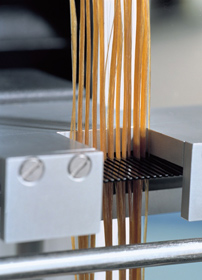 EUROPEAN COATINGS SHOW 2015 WACKER Presents Innovative Binders and Hydrophobic Agents for Gypsum Applications
Wacker
03 Feb 2015
Munich, January 27, 2015 – At the European Coatings Show (ECS) in Nuremberg, Germany, from April 21 to 23, 2015, the Munich-based WACKER Group will be exhibiting a new polymeric binder for modifying gypsum drywall products. VINNAPAS® 4800 G gives gypsum-based joint fillers outstanding tensile adhesive strength on gypsum plasterboard and jointing tapes. Joint fillers finished with this new dispersible polymer powder also show excellent workability to yield particularly smooth surfaces. Furthermore, the powder's low emissions make it ideal for joint fillers and jointing compounds used indoors. Plus, WACKER will be presenting SILRES® BS POWDER S, an additive for waterproofing gypsum-based dry-mix mortars. This highly efficient powder is low in volatile organic compounds and can be quickly mixed with water without raising dust.
At the ECS 2015, WACKER will be premiering VINNAPAS® 4800 G, a new polymeric binder specifically for gypsum-based joint fillers of the kind employed in modern drywall building. Drywall technology is very popular today because it is easy and quick to install. Polymeric binders are important ingredients in joint fillers because they give the gypsum mortar the necessary stability, adhesion, flexibility and workability.
VINNAPAS® 4800 G dispersible polymer powder is based on vinyl acetate and ethylene and was specially developed for enhancing gypsum based joint-filler compounds. The new powder boosts the adhesion of grout mortars to both reinforcement strips and plasterboard. The reinforcement strips, which may be made of paper, glass fiber, or specialty nonwovens, are placed in the joints and plastered over to make the joint more stable and to prevent cracks.
Stabilized with polyvinyl alcohol, makes joint fillers simpler to process, and much softer and easier to apply. Once applied, it cures to yield a particularly smooth, level surface devoid of cracks or crevices. The total absence of plasticizing additives in VINNAPAS® 4800 G supports the formulation of low-emission end products. It is thus ideal for enhancing ecologically sound, gypsum-based dry-mix mortars for joint fillers and jointing compounds used indoors.
SILRES® BS POWDER S: Highly Efficient Water Repellent for Gypsum Dry-Mix Mortars
Moisture can do irreparable damage to gypsum building materials. To prevent this and to protect the set gypsum mortar against moisture, powder-form water-repellent agents are admixed to the dry-mix mortar. This requires manufacturers of standard powder-form water repellents to employ carrier or encapsulation materials as a way of converting the liquid active ingredients into a powder. These additives delay the onset of the hydrophobic effect of the liquid water repellent until the mixture of gypsum mortar and water has set. The disadvantage of such additives, however, is that they are composed almost entirely of carrier material. The actual active ingredient constitutes just a few weight percent of the formulation – which is not very efficient in terms of either weight or cost.
The solution here is to use SILRES® BS POWDER S. This new additive for dry-mix mortars does not require any additional additives, consists entirely of a novel, active powder ingredient and so is extraordinarily efficient. Just 0.2 weight percent of SILRES® BS POWDER S is enough to make gypsum building material waterrepellent. Gypsum containing the new additive absorbs up to 90 percent less water when set and can be employed in bathrooms, kitchens, stairwells and garages. Gypsum-based wall plasters, joint fillers and adhesives that have been formulated with the additive are thus suitable for use throughout house interiors.
SILRES® BS POWDER S consists of a methyl siliconate which is produced as a colorless, free-flowing powder by a special process. The active ingredient is inherently soluble in water, a property which confers excellent mixing properties when the mortar is being prepared. Nonetheless, the gypsum mortar is water-repellent as soon as it sets. SILRES® BS POWDER S can be used with all types of gypsum dry mix mortars, irrespective of the pH. It eliminates the prereaction times which are often needed by conventional powder-form water-repellent agents. The additive even supports the formulation of Type H1 gypsum jointing compounds that meet the highest requirements for reduced water absorption. According to Standard EN 13963:2014, which was revised last year, Type H1 joint fillers must absorb no more than 5 weight percent water after setting.
Watch our video clip on SILRES® BS POWDER S at:
Visit WACKER at the European Coatings Show 2015 in Hall 1,
Booth 1-510.
Other Important News Articles
More